Crews Wanted, Concrete,
Rain Gutters, Insulation

$ Fill Out Form
CASH PAID PER JOB
PAYMENT DIRECT FROM CLIENTS
CONCRETE CREWS
TURN-KEY RATES
FORMING, POURING, LEVELING
More Details
The Benefits of Using Concrete for Your Patio
Unbeatable Strength
RAIN GUTTERS – STEEL BUILDINGS
RATE PER LINEAR FEET
More Details
Metal Building Gutters for Self-Protection
The first job of gutters is to allow people to enter and exit the building without dashing through a drenching waterfall, as sheets of water rush off the roof during a thunderstorm.  Choosing to add gutters to your metal building package keeps you and your visitors nice and dry.
Metal Gutters Increase Leak Protection
Without metal rain gutters, rain cascades off the building roof and straight down the walls.  The runoff may leak inside, invading the structure and dampening the building's insulation or contents.
Water traveling down the side of the building wedges under the seals.  If the water then freezes, it can cause breaks in the seals, increasing the likelihood of greater leaks the next time.
In addition, pooling water around garage doors seeps inside, staining the floor.  Over time, the standing water rots wooden doors, or discolors and rusts steel doors.
Steel Building Gutters for Foundation Protection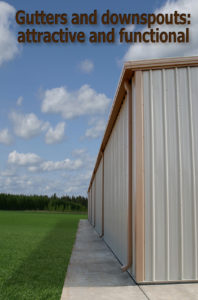 Rainwater not diverted from the base of a building by metal rain gutters inflicts massive damage on a foundation.  In fact, excess water can literally compromise the structural integrity of the building itself.
Buildings with basements face the highest risk of water damage.
Heavy rain sheeting down the side of a building hits the ground with considerable force.  Pooling around the base of the structure, the water may invade the building itself.
Worse yet, repeated rainfall or exceptionally heavy downpours can trap standing water around the building, allowing water to seep under a slab foundation.  Water beneath a slab washes away the supporting soil.  Portions of the foundation settle, sink, and shift.  Cracks appear in the concrete slab.
Clay-rich soils expand when saturated with water.  This too creates pressure on foundations.
Repairing a damaged foundation is possible.  However, foundation repairs are aggravating and expensive.
Metal Gutters and Landscaping Protection
Downpours flow off roofs and crash heavily onto plants surrounding the building.  Rain pounds landscaping, damaging tender plants.
Metal gutters guard plants by removing cascading rainwater safely away from your structure.
Metal Gutters Offer Aesthetic Protection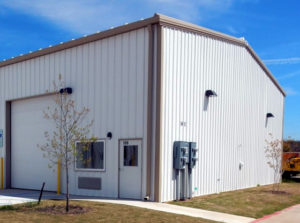 Without gutters and downspouts to turn excess water away from the structure, rain hits the ground and splashes mud onto the building.  It is both unsightly and destructive.
In fact, certain types of soil discolor exterior materials, permanently staining them.
Using gutters eliminates such backsplash.
Steel Building Gutters Provide Financial Protection
Replacing landscaping, repairing leaks, and fixing foundation problems is expensive.
Moreover, insurance policies usually do not cover water damage problems.  In fact, most property insurance policies do not cover any flood damage.
Conclusion
Avoid water problems before they happen.  Include a gutter and downspout package with your other metal building accessories on your steel building order. For part two of this series, see How to Collect Rainwater from Gutters.
INSULATION SPRAY FOAM
TURNKEY RATE PER JOB
More Details
Every business has a common goal: to increase profits and decrease spending. By investing in spray foam insulation for your commercial or industrial property, you will see instant energy savings and increased year-round comfort for your business. With OUR knowledgeable and professional teams of spray foam product specialists and manufacturer trained installers, you can expect excellent service, as well as some of the lowest and most competitive rates for commercial spray foam insulation on the market. 
Get Jobs
Get jobs from our Steel Building Cients.
The Lowest Rates
Vestibulum id ligula porta felis euismod semper. Donec ullamcorper nulla non metus auctor fringilla.
Unlimited Gas & Miles
Nulla quis lorem ut libero malesuada feugiat. Arcu erat, accumsan id imperdiet et, porttitor
24/7 Pickup & Return Access
Nulla quis lorem ut libero malesuada feugiat. Arcu erat, accumsan id imperdiet et, porttitor
Multiple Drop-Off Locations
Nulla quis lorem ut libero malesuada feugiat. Arcu erat, accumsan id imperdiet et, porttitor
Best Rates & Highest Quality Services
Curabitur arcu erat, accumsan id imperdiet et
Curabitur arcu erat, accumsan id imperdiet et
Curabitur arcu erat, accumsan id imperdiet et
Curabitur arcu erat, accumsan id imperdiet et
Curabitur arcu erat, accumsan id imperdiet et
Curabitur arcu erat, accumsan id imperdiet et
info@americansteelbuilders.com
1234 Divi St. #1000, San Francisco, CA 93522